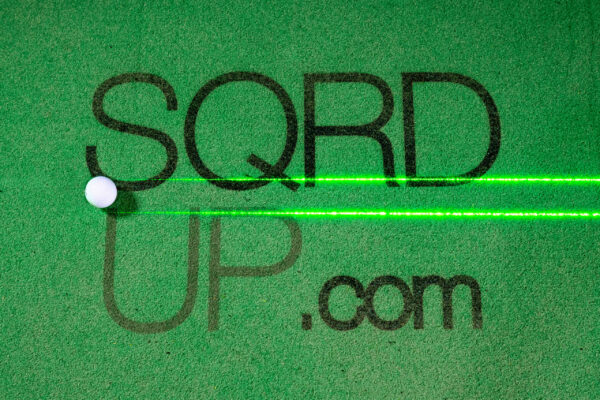 ENTER FOR YOUR CHANCE TO EARN $1 MILLION DOLLARS!!!
#SQRDUPNEXTPRODUCT is a Putting Training Aid, which provides the golfer with a putting track.
We need a "Product Naming Consultant" (fancy title, huh).  SQRDUP is seeking to fill this position by finding the perfect name from one of our many followers. 
If you are the first to submit the name eventually chosen for our next product you will be hired as a consultant for SQRDUP, this position is in name only, however you will receive a commission of $1 for every Next Product sold, up to 1 million units.  That's $1 Million Dollars!!!
To ENTER CONTEST, click the button above, enter your email and submit your top five (5) names. Five (5) submissions per email address.  The open application date closes at midnight on September 30, 2022.  At that time our SQRDUP naming committee will select the top TEN (10) submissions, which we feel best fits our product and vision of our company.  Those 10 names will be listed on Social Media in October and the winner will be determined by popular vote.  In the event of duplicate entries, the earliest email receipt date will be the official submission.
OUR NEXT PRODUCT IS COMING SOON!
Sorry, but due to Design, Engineering, Prototype & Supply Chain we will miss our December 2022 delivery target.  We anticipate debuting our prototype at the 2023 PGA Merchandise Show and an April 2023 delivery.  Pre-Ordering is now available, SAVE $40 plus free shipping.

Our Next Product provides the following benefits:
Increased The Brightness

Read Greens Better

Identify the Correct Break of Putts

Learn Speed of Putts to High Point

Get Ball Rolling on the Correct Line
Here's what people are saying about SQRDUP
"Research has proven that 85% of golf swing learning is visual. ...the SQRDUP alignment tool does a better job giving feedback on your alignment than any tool I have used in my last 40 years of teaching."
"The SQRDUP Training Aid helps groove your putts."
"The SQRDUP is a fun tool to make sure your alignment is close to perfect. It is one of our favorite training aids to help your game."
"SQRDUP is the #1 Laser Alignment Aid in our opinion. ...SQRDUP needs to be in your bag."
FOLLOW @SQRDUP ON INSTAGRAM